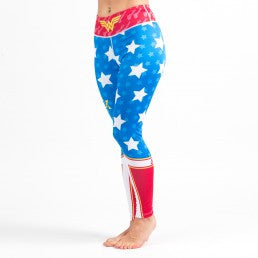 Fusion Wonder Woman Leggings (Spats)
Harness the power of Wonder Woman with these new grappling leggings from Fusion FG! Unfortunately they won't make you a demigoddess or a Amazonian Warrior Princess, but they MAY give you some extra powers in the gym, particularly if you were able to score yourself a lasso of truth, or her bracelets and tiara.
Wonder Woman has been fighting for love, peace, and gender equality since her debut back in 1941, and looks pretty damn good for woman of 75! She is a founding member of the Justice League, and will have her own solo movie debut on June 2, 2017!
Perfect for repelling nasty bacteria, as well as foes of the JLA, these officially licensed ladies BJJ leggings have a tight compression fit and make it tough for your opponent to grab your legs as you slice through their guard.
These Wonder Woman sports leggings are also great for wicking moisture away from the body, and will dry very quickly.
These Wonder Woman spats can be worn under a pair of shorts, or on their own. They are designed specifically for a woman's body, with a thicker compression waistband to help eliminate the dreaded muffin top, and so that they don't ride down in the back while squatting. We also added in a diamond shaped crotch gusset to improve all around comfort.
---
---
More from this collection